Concrete Services In Winston Salem
Don't take our word for it, hear from our previous customers!
Reviews
Winston Salem Concrete Experts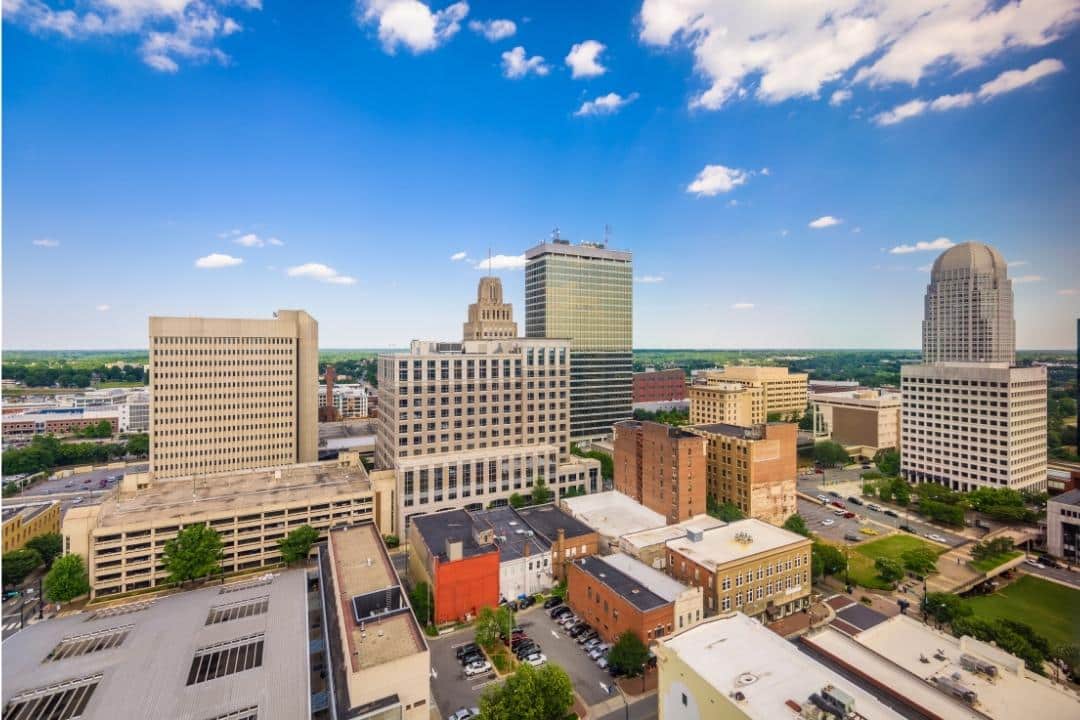 Concrete Contractor In Winston Salem
We are North Carolina's premiere concrete contractor of Winston Salem . We have experience pouring concrete in all different settings: foundations, patios, driveways, walkways, commercial buildings, industrial complex, parking garages, underwater pilings and piers and even large scale structural beams. We work to uphold a stellar reputation in and around Winston Salem as the top concrete company in North Carolina.
Apex Concrete was founded in 1998 by Michael Hayworth and since then it has evolved over the years to be what it is today. Michael is a North Carolina native who has worked in the building industry all of his life. His father was a general contractor for over 50 years. This allowed Michael to learn and work in the construction industry with many of the specialty trades such as framing and trim carpenters, roofing, brickwork, excavation and grading to name a few. These experiences have allowed him to see the necessary steps it takes to complete projects. Through the years, it has given him vision to see the building process from many different views from homeowners, builders, subcontractors, and suppliers being  the major ones. Over the decades, Apex Concrete has added waterproofing, drainage, grading, tree service, hardscape, landscaping, concrete pouring, concrete core drilling to their list of services to name a few. These are major areas for most projects with water problems being at the top in almost all of these. Check out a few of these main services below that make us the best concrete company in Winston Salem.
At Apex Concrete Services, there is no concrete pouring project too large or too small. Our staff can work with your engineers, architects, project managers, and superintendent to meet all of your unique specifications and complete the project on time, within budget, with the highest quality materials and the latest industry standards.
We can handle any project, big or small. We give the same excellent customer service and attention to detail no matter what the job. We are committed to customer service and we work hard to surpass your expectations as the best concrete company in Winston Salem.
Whether you've got an existing wooden deck or a blank slate to work with, a freshly poured patio may transform your entire backyard! Our team can make it possible to create a beautiful, high-end design that flows perfectly with your lawn and landscape. Many of our customers realize how practical concrete is and that is why they would rather update to this substance over another type of patio. Get in touch with us to explore the different choices out there!
Your driveway sometimes takes a beating depending on how often it is used and the weight of the vehicles that drive over it day after day. Upgrading the look of your driveway is an superb choice if you're looking to invest in the value and curb appeal of your home. If you want a new driveway install then you've come to the right place. When you think of quality, we expect you'll think of us. We are here to listen to your comments to meet your particular design vision.
Our team can make it feasible to make a custom, high-end design that flows flawlessly with your lawn and landscape. A number of our customers realize how functional concrete is and that is why they would rather update to this material over any other sort of material. Get in touch with us to learn more about different choices available and to learn why we are the best concrete company in Winston Salem.
A great way to add interest to your stairs, walkway or driveway (or another area ) is to think about stamped surfaces. It may produce some of the very gorgeous results. If you are not familiar with what stamped concrete looks like, give us a call and let's show you some examples of your choices together with the appearance of the final product. If you like stone, slate, or brick but the cost is over budget, stamped and colored options can be a great alternative to check out! Our installs mimic some of your favorite stones ​but for a lot more affordable pricing. Our concrete specialists can offer you many unique options and colors to select from. Click here to learn more.
From new construction to existing, we are well versed in all parts of concrete slab installation, removal, and repair. If there's a problem with your construction's base then you have come to the right place. If there is an issue with the slab supporting your home then this can possibly undermine the integrity of your foundation. Don't let structural damages ruin your house or building's base once we can take preventative steps to prevent it. With the help of our team, we can effectively assist with all your concrete slab requirements.
​Restoration can bring back the vibrancy of a classic structure if you hire the ideal team to handle the concrete repair for you. Our experts have the essential skills and credentials needed to effectively handle a complete spectrum of tasks. We don't just offer you a fast fix which will not last. We provide permanent solutions which restore the condition of current problem locations. When you want peace of mind, give us a call and let us take care of your restoration jobs. You are sure to get exactly what you pay for by turning into our qualified concrete professionals. Click here to learn more
Contact the best concrete contractor in Winston Salem now!