Stamped concrete is one of the most popular materials for any construction project today. This concrete is commonly textured or patterned to resemble wood, tile, stone, flagstone, slate, brick, and any other patterns or textures. It is very easy for you to use this concrete in many areas in your properties, such as patios, driveways, sidewalks, pool decks, interior flooring, etc.
Stamped concrete is chosen because it can bring a unique look to boring concrete. We offer many different types of stamped concrete from some of the most trusted retailers on the market today. We are going to discuss some pros and cons of using this type of concrete on any of your residential or commercial properties.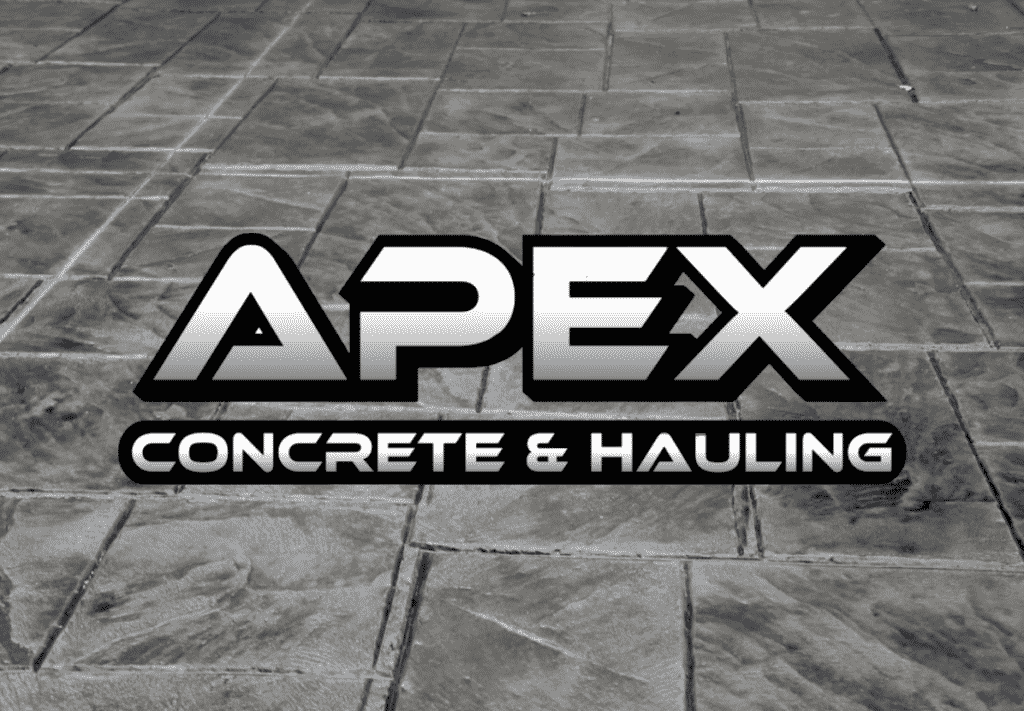 Pros and Cons of Using Stamped Concrete
Pros
a. Wide array of options
Stamped concrete has exploded in popularity in recent years. Nowadays you have a wide array of options in terms of design or color. It is recommended for you to consult with professional interior designers who know how to choose the best design for your property. Combining some beautiful designs and styles can help you improve the overall look of your property, such as home, office, or other buildings.
b. Affordable way to decorate your property
This is another reason why you may want to consider using stamped concrete for your property. Many stores offer high-quality concrete at a very affordable price which APEX Concrete & Hauling can install. You can save a lot of money this way when you are planning to improve the overall appearance of your property. Stamped concrete is often more affordable than other materials, such as bricks, pavers, natural stone, etc. You can eliminate the needs of using expensive materials for any of your construction projects. It is always a good idea for you to give us a call before you decide to buy the best-stamped concrete for your needs.
 c. Long-lasting
Stamped concrete is mainly made from the best concrete with high-quality materials. It means that you can use this product for a very long time. This product is claimed to be more durable than the other materials, such as paved stone. Many experts believe that concrete can be used for more than 15 – 20 years, especially when they are maintained properly. You can seal the concrete for an easy maintenance procedure. This sealing process can increase the overall durability of this product.
d. Slip-resistant
Many people are interested in using this product because of this reason. Stamped concrete usually has a textured surface. Therefore, it is commonly more slip-resistant than traditional concrete. Because of this reason, you can consider using this concrete for any high-traffic areas, such as pool decks or driveways. You can also add slip resistance by adding non-skid additives or using heavy texture. It is always a good idea for you to consult your needs with professional experts. They usually know how to provide the best slip-resistant feature from this stamped concrete.
Cons
a. Prone to cold weather
When using this product, you need to understand this disadvantage of using this material. Concrete is very sensitive to cold weather and temperature. It can be damaged by the freezing and thawing cycles. When you apply deicing salts on the areas around your property, these salts will also cause some damages to your concrete. Because of this reason, you have to repair any of your stamped concrete once the winter season ends. Regular yearly maintenance can help you improve the durability of this material.
b. You need a regular sealing procedure
This is another downside of the stamped concrete. When using this material, you may want to consider resealing the concrete at least once every 2 – 5 years. This resealing process can help you keep the material look the best. This maintenance procedure is also useful to prevent serious damages or cracks on the surface of your concrete. Some cracks on your concrete will require you to replace the whole part of your concrete in your properties.
For the best North Carolina stamped concrete call Apex Concrete & Hauling today.