Calling all North Carolina homeowners interested in expanding their backyard hangout spaces! Are you interested in the addition of a pool, but unsure of how you want it to be laid out? Want something more visually appealing than the average in-ground basic pool? Well lucky for you, here at
Apex Concrete & Hauling
, we specialize in all things concrete and patios! We make sure to stay up to date on all trends for pool decks and patios to ensure that we provide the best and most unique service in the North Carolina area. Whether it be incorporating stamped concrete for some visual flair, or trying out new colors and textures to set your pool deck apart from the others, we have you covered! We have gathered some ideas for popular pool deck design concepts for you to consider when planning out your future space. We would love to help you make your poolside dream a reality!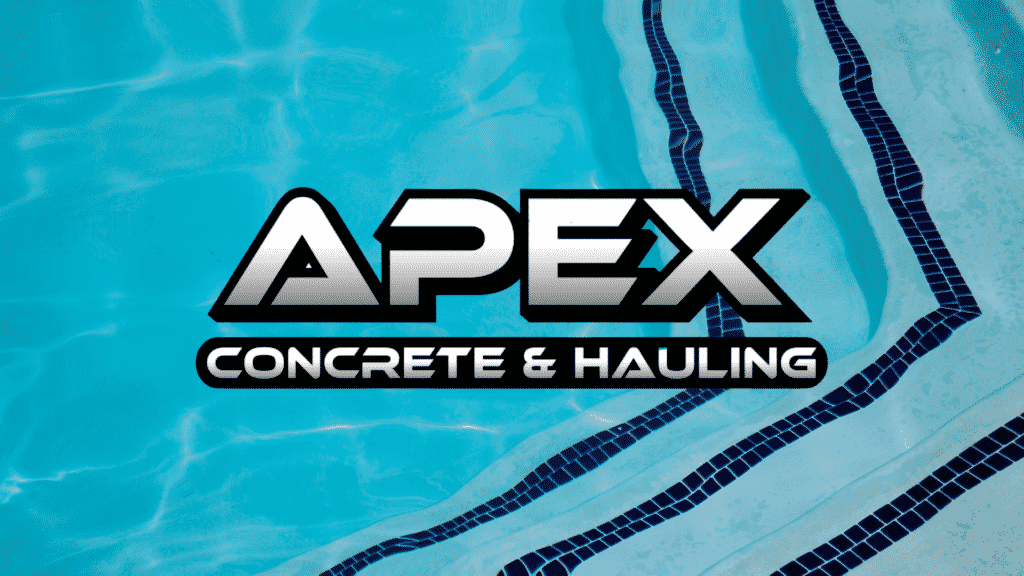 Concrete vs. Other Materials: Why is Concrete the Best Choice?
Before choosing a specific design aesthetic for your pool deck, it is important to choose the proper foundation to build from. When weighing which pool deck materials you may want to choose for your pool, considering potential factors like your overall budget, level of safety with each material option, general maintenance, durability against the elements, and how it fits your home's landscape and design are some of the most important factors to keep in mind. While concrete may not be the only player in the game, it does offer a number of extremely important advantages that other pool deck materials lack, particularly when it comes to versatility and durability. When compared to other popular options like pavers, natural stone, brick, and tile, concrete out-performed them in all categories tested: slip resistance, heat reflectivity, affordability, ease of overall maintenance, and the overall number of design options.
Above all, safety should be the ultimate priority for your home's pool in order to protect against any slips or falls for your family and friends. Concrete offers the best traction on pool deck surfaces, unlike other alternatives, especially tile, that become very slippery when wet. In terms of heat reflectivity, compared to darker-toned tile and brick that can become very hot to the touch after baking in the heat of the sun during the summer months, concrete actually reflects solar radiation. This, in turn, makes it much more comfortable to walk around your pool area with bare feet. Another pro to consider for concrete is the aspect of affordability; pool decks made of pavers, brick or flagstone typically go for a much higher price because of the hefty labor costs they require to install each unit individually. Concrete still allows for patterns and stamping, which can offer the same effect as the other alternatives, just in a more cost effective way. Unlike various paving materials that are sometimes used, concrete does not require releveling or replacement over time. The joints between paver need to be refilled with sand periodically to prevent weed growth, meaning that the ease of overall maintenance with concrete is undoubtedly top tier. Overall, concrete is the undeniable winner when put up against any of its competing options for materials to build pool decks.
What is Your Pool Deck Design Inspiration?
Whether you are wanting a modern, sleek, private pool or a serene, naturalistic earth-toned pool, we have got you covered. Here at Apex Concrete & Hauling, we have experience creating all styles and layouts of beautiful and unique pool areas. We will sit down and connect with you to understand exactly what style and aesthetic you are wanting for your perfect poolside hangout area. We will work with you every step of the way to ensure we are meeting your goals and visions. Here are a few options of popular pool deck designs to get your creative juices flowing: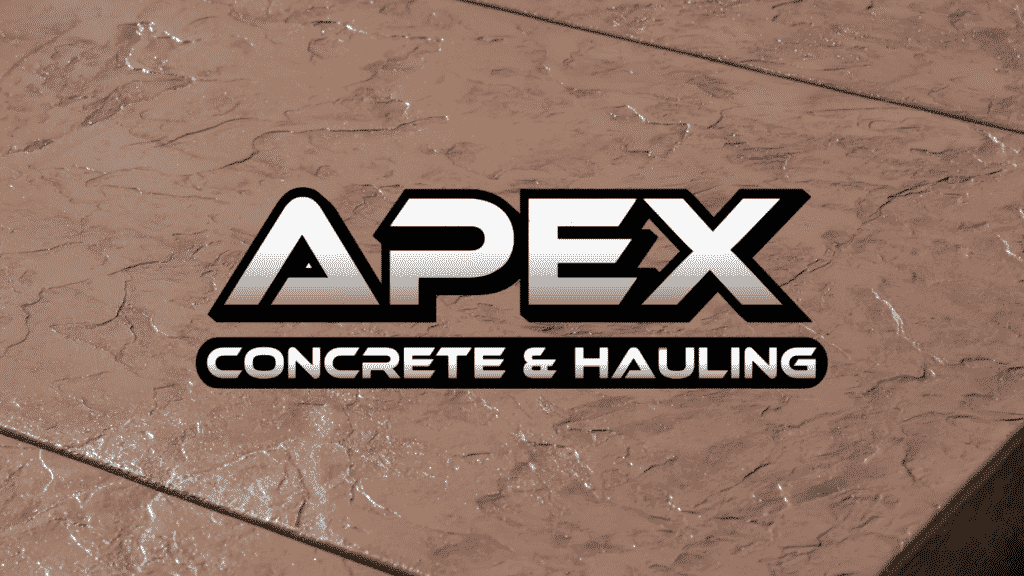 Versatile Stamped Concrete
For a while, there was a mundane and cold connotation towards concrete. Before creativity took hold, concrete was typically painted over to hide its sterile presence. However, with the revival of industrial style, concrete is now used to create unique designs that can be used as the focal point of your home. Patterned and imprinted concrete pool decks offer unlimited potential for the final product. You can customize what stamp design you prefer, essentially mimicking any pattern! Adding the final touches with plants and stylish landscaping fit to your aesthetic, your pool area will be photoshoot worthy!
Creating Your Aesthetic Using Color and Texture
Like aforementioned, using stenciled or stamped concrete instead of just the plain, poured version is a perfect option for those homeowners who want a beautiful yet cost-effective pool deck, though, you do not have to stop there. Coloring concrete adds a whole new look to your space, allowing you to create a more design-conscious touch to your finished product. Concrete decks typically cost a lot less than those that involve expensive stone finishes. Yet, they can offer you the same aesthetics, thanks to chemical stains and dry-shake hardeners. Exposed aggregate pool decks can deliver a stylish, pebble-like finish using concrete, which is a perfect solution for those who wish to imitate the coastal vibe of a sandy beach.
Timeless and Classic Concrete Look
A style that is not only timeless, but modern with a futuristic flair, is the classic concrete oasis. Not only will it never go out of style, but it is also durable and very cost-effective. Bypassing the added touches of fancy finishes and the stamped concrete decks that many enjoy, a classic, simplistic concrete look one is for those who love minimal and low-maintenance pool decks. Classic concrete decks might also be the top choice for those who want their backyard to feel like an extension of their modernized, cool-toned, contemporary home draped in neutral hues, which is a very popular look in today's society.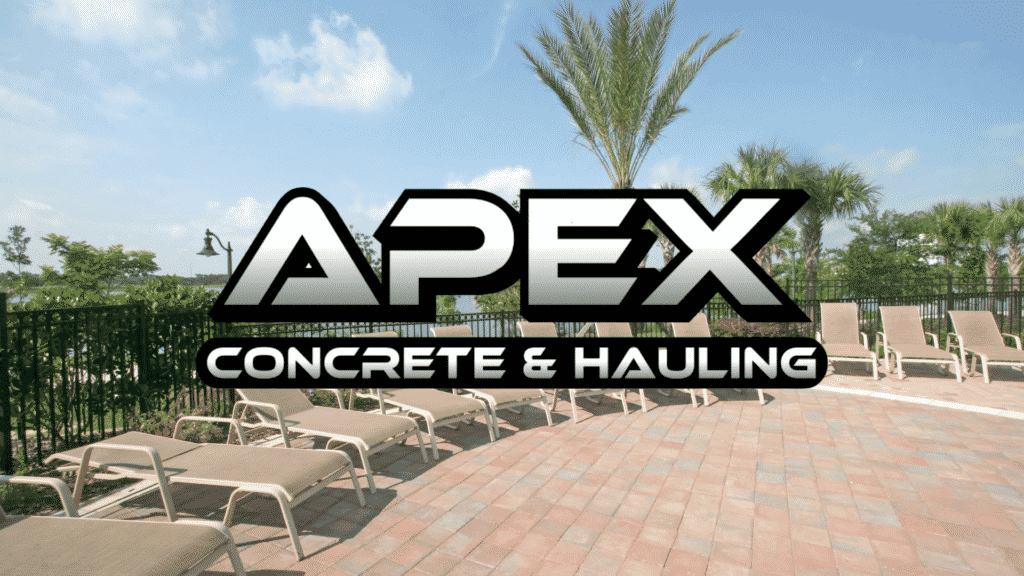 Call Us For Concrete Pool Deck Installation
No matter what pool deck vibe you are wanting to create, we will work with you to make sure all of the added details you are wanting are met, keeping your budget and timeframe in mind. There are endless inspiration opportunities, even outside of this article, and we would love to help make your poolside inspiration a reality for you and your family! Contact the North Carolina Concrete Pool Deck Installation Team today at 336-453-8697 and we can get started!