So You Have a Dirty Concrete Patio?
A concrete patio can complement nearly any home that it's attached to. It can be a nice place to sit in the summertime and an overall great addition to the home. However, patios also have a tendency to get dirty after prolonged periods of time. Some of the things that can lead to a messy patio are:
Dirt from people's shoes

Mold

Stains
Common Concrete Cleaners
There are ways to clean even the dirtiest concrete patios. Some of the most commonly used concrete cleaners are pH-neutral cleaners, acidic cleaners, alkaline cleaners, and enzymatic cleaners. Though these are all great cleaners to choose from with a number of brands that go with them, there are many other important things to note when it comes to cleaning your concrete patio. If you want more information on concrete cleaners you can read our blog Best Concrete Cleaning Agents.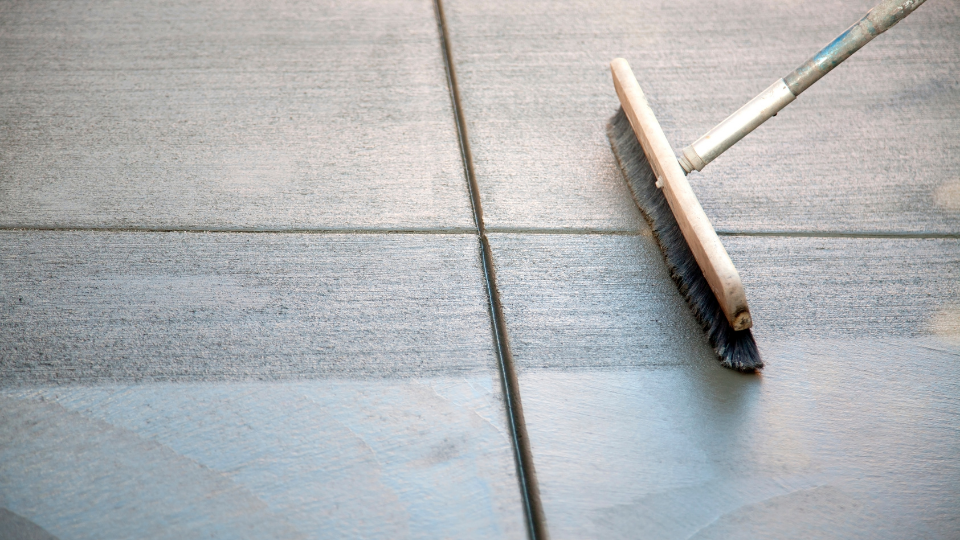 How to Clean Surface Blemishes on Concrete?
Step 1
The first step to cleaning blemishes on your concrete surfaces is to find a cleaner, as mentioned above, to clean it with. The general rule is to find a cleaner that is as non-toxic as possible and seeing if it works before upgrading to a more toxic one if the first one doesn't work.
Step 2
After finding a suitable cleaner, you'll need to determine what kind of concrete you're working with. There are multiple finishes when it comes to concrete and knowing if you have unsealed brushed or epoxy-coated concrete is important to distinguish what method will be best to clean it with.
Step 3
Considering in this case that your concrete surface will be outside, you'll need to clear it of debris, and anything left over from the elements before attempting to clean it. Then it's as simple as mixing the cleaners together and scrubbing the surface of the concrete patio with the cleaner. After you're done scrubbing, simply rinse the spot with water. If the rinse didn't do the trick and the spot is still there, repeat the scrubbing process until you have the desired result.
How to Deep Clean a Concrete Patio
If your patio problems go deeper than just the surface, than it may be time for a deep cleaning to handle it. Below are the steps for deep cleaning a concrete patio.
Step 1
You should clear the area of the debris right away to make sure nothing of yours gets damaged or gets in the way. This includes patio furniture, and various things like leaves. Then you can pick out a cleaner to try and fight the stains first.
Step 2
After applying and scrubbing with the cleaner like before, your patio may still be dirty. If this is the case, then you can move onto properly deep cleaning it with a power washer. This will be tough enough to get out nearly every blemish off of your concrete surface. Power washing can be dangerous, so make sure you have the proper safety equipment on to handle such a job.
Step 3
After power washing your concrete patio, nearly every issue should be resolved, but if not you can use muriatic acid. Using muriatic acid should never be the first thing you try. It can be a dangerous job and should only be used when absolutely necessary. As with the power washer, you'll need protective gear to work with muriatic acid. After working with the acid, you'll also need to clean the area with water and ammonia to ensure that there is no leftover residue of the dangerous chemical.
Is It Just Dirty or Do You Need a Whole New Concrete Patio?
Even with all of these cleaning tips, you may find that your patio is still not all that clean. This does happen from time to time and is typically indicative of a deeper issue that simply cannot be resolved. If your patio is dirty beyond repair then you need to ask yourself if it is worth the time, effort, and money to clean it, or if it makes more sense to simply have a new concrete patio installed. This could be a great time to change up your patio design. If you find yourself leaning toward getting a new patio, then Apex Concrete Service has you covered. With a wide variety of concrete-based options and designs to choose from, and a product that is built to last, we at Apex can install a new concrete patio for your home that is sure to add value and charm. If you're in North Carolina and are in need of a new concrete patio, contact us now!