Stamped Concrete or Pavers: Patio Design 2021
Your home's extrinsic nature–the way it emulates your style, is an investment. Driveways, walkways, and backyard patios all include things that should complement and improve your home's overall personal and architectural style. With that in mind, you'd want these outdoor additions to be able to withstand Mother Nature's treacherous conditions, be low-maintenance, and look and feel as good as they did when they first were installed. With so many options for literally paving the way, let's look at two types of concrete: stamped concrete and patio pavers. As two appealing and reasonably priced outdoor options, we'll see how they compare in terms of aesthetic appeal, safety, upkeep, and cost.
So, what are they? 
Pavers are multi-colored concrete sections that are interlocked to create a sturdy walkway, driveway, or patio surface. Stamped concrete, on the other hand, is poured as a solid surface that is then embossed or textured to look like mortar, flagstone, slate, stone, tile, or even wood.
Though stamped concrete is a much more modern option, pavers have been used to create Spanish monastery courtyards, Ancient Roman pathways, and stunning hardscapes in homes all over the world for hundreds of years. This has earned pavers a well-deserved reputation for outstanding longevity. However, pavers have a few drawbacks that make stamped concrete a common alternative for homeowners looking for intricate or ornate designs. 
That being said, pavers and stamped concrete both have their own advantages and disadvantages that vary depending on where you live.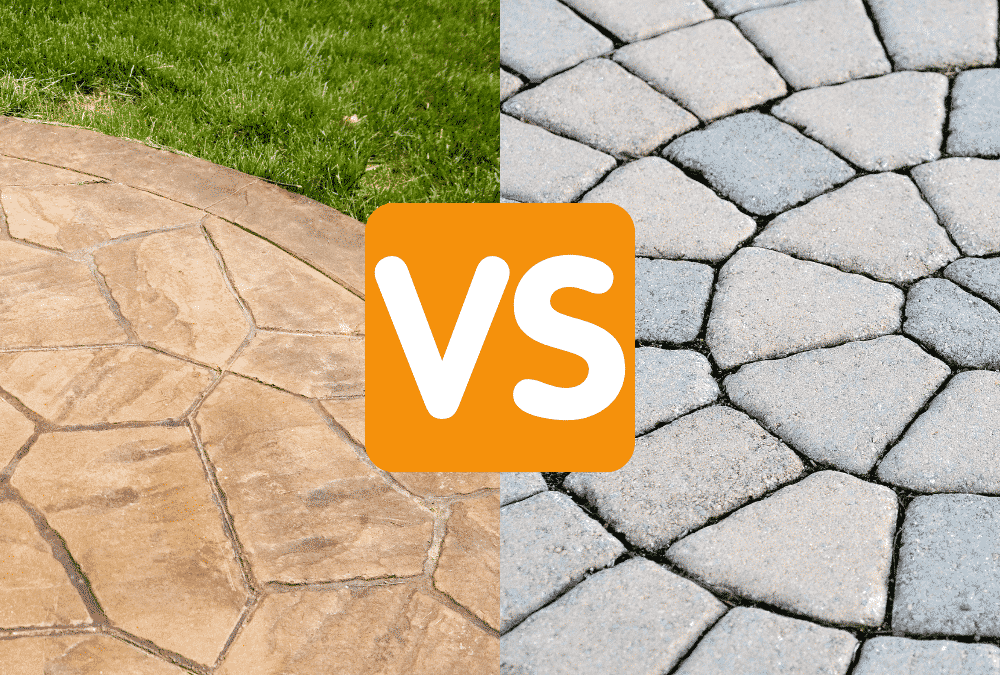 Advantages of Stamped Concrete
 1. Fast Installation
Welcome to the most efficient method of constructing a driveway. It takes a fraction of the time to build as natural stone (paver driveways). Most significantly, it takes less time and effort, and your driveway will be out of service for a shorter period of time.
2. Versatility within Color and Patterns 
Since the concrete is poured on-site, it can be customized in a variety of ways. Above all, the concrete can be colored to fit the exterior of your home or its surroundings, including existing concrete, a pool, or something else.
This is advantageous because your new driveway will appear to have always been a part of your neighborhood's architecture. The best thing is that stamped concrete offers a wide range of design possibilities.
3. It's Outstanding Durability
A well-installed stamped concrete driveway would undoubtedly last for many years. It won't sink and will be able to withstand heavy traffic. In any case, if you want a beautiful driveway that won't break the bank and will last for years, stamped concrete may be the way to go.
4. Low-Maintenance
As previously mentioned, stamped concrete needs very little maintenance. It has a lovely appearance and only needs resealing every other year for maintenance (sometimes two, depending on its usability). It will prevent cracking and chipping of the concrete, as well as help to maintain the color.
5. Low Prices
Stamped concrete is a much less expensive choice for your driveways. It is less expensive than other driveway surface facilities. The explanation for this is simple: it requires little labor during construction and the concrete itself is inexpensive.
Most notably, stamped concrete has a slew of additional benefits. It should be noted that it is done in a matter of days with minimal manpower. Aside from that, unlike driveway pavers, you won't have to worry about various types of grass growing on your driveways. A single slab of stamped concrete is poured.
Overall Pros and Cons of Stamped Concrete
Pros:
It comes in a variety of colors and patterns.
Since concrete is so mobile, you can mix colors by hand on the job.
Climate, auto leakage, and swimming pool chemicals can all be protected by sealing stamped concrete.
It may closely resemble segmented paving or natural stone due to its virtually unlimited customization ability.
Cons: 
Due to the difficulty of installation for do-it-yourselfers, a skilled installer is often needed.
Concrete is vulnerable to cracking, particularly in climates where freezing and thawing occur frequently.
Stamped concrete can break as a result of earthquakes and foundation problems.
Interruptions may occur across stamped pattern lines because control joints and saw cuts are needed to prevent cracking.
De-icing salts may cause ornate designs to deteriorate.
Since colors fade in the light, it's not always easy to find exact matches when patching repairs.
At least once a year, homeowners must reseal their stamped concrete.
Advantages of Pavers
1. Exceptional Curb Appeal
A paver driveway is an investment that will increase the value of your home. According to a survey of homeowners, many people still prefer pavers as a flooring choice. Pavers are a classic and long-lasting alternative. Having said that, we would advise that you seek advice from locals before installing pavers.
2. Various Design Options
Nowadays, several companies have over a hundred different driveway paver choices to choose from. Luckily, there are a variety of choices available, such as a sleek modern look, natural stone appearance, classical elegant style, casual antiqued look, and so on.
You can experiment with different driveway surface textures, colors, and paver forms to find the one that best suits your overall design aesthetic. Furthermore, you can easily build your own driveway by mixing complementary colors, shapes, and designs.
3. Durability 
Many high-quality driveway pavers are engineered to withstand freezing temperatures. The majority of them are adaptable to seasonal changes. This is a benefit that you should consider when selecting pavers for your driveway.
It's worth noting that less expensive pavers may not be able to withstand climate change and may develop unsightly cracks that are difficult to fix. The longevity of your paver driveway is largely determined by the consistency of this "base." As a result, we strongly advise hiring a specialist paving contractor to complete the job.
4. It's Possible That the Surface Will Not Spall
Guaranteed spalling is the term used to describe a surface failure. The top layer of a product is removed, exposing a surface underneath it that is unappealing in texture or color. As a result, spalling will make both natural stone and stamped concrete driveway surfaces look patchy and unattractive over time. One of the reasons you should choose the right one is because of this (and make sure it never spalls).
Overall Pros and Cons of Pavers
Pros
In most cases, pavers are comparable to stamped concrete.
Pavers are more cost-effective over time because they seldom need to be replaced.
Repairs are simple and seamless, and cracked or broken pavers can be easily replaced.
Accents, bandings, and borders can be created by mixing and matching colors and patterns to create beautiful designs.
Cons
Joint sands will need to be replenished every year or two unless a binding polymer is used.
If a binding polymer is not used to harden joint sands, weeds may sprout between pavers.
Pavers will shift or settle over time if they are installed incorrectly, particularly if the soil is not prepared properly.
Installers must carefully blend the pavers to prevent them from becoming blotchy because lots will vary slightly in color from palette to palette.