Concrete can be the best solution for all types of outdoor projects. Outdoor basketball courts are less expensive to construct and give users the enjoyment of spending time outdoors. Whether you want to create an outdoor basketball court for commercial use, or just want to enjoy having a court on your property, your project's success will depend on choosing the right outdoor basketball court flooring and the right concrete contractor. There are a variety of products available to construct an outdoor basketball court, but which one is right for your needs?
What Makes A Good Outdoor Basketball Court?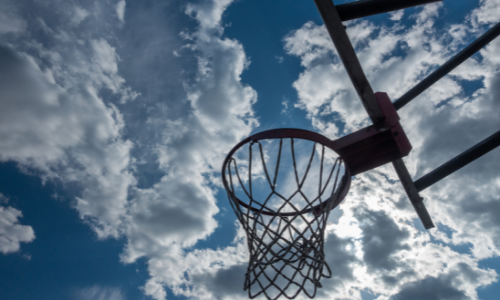 A good quality outdoor basketball court has the right amount of grip, a consistent surface that provides a good bounce, and has a smooth feel. Three key elements that make up a good outdoor basketball court are durability, traction, and perforation: 
Durability:
Durability is essential when building an outdoor basketball court. It is important to look for flooring that can withstand serious foot traffic but is still able to look great for years to come. The flooring you choose will not only need to be strong enough to withstand significant use, but it also is strong enough to withstand the elements that it will be exposed to. When looking at flooring options, consider what materials are UV resistant, can withstand different temperature extremes, and won't be damaged by snow, ice, sleet, or hail.
Traction:
The flooring of your outdoor basketball court should be able to provide good traction to help keep the court's users from slipping and falling. Good traction can prevent injury and long-term harm to joints.
Perforation:
Unlike indoor courts, outdoor basketball court surfaces are exposed to the elements. These courts see plenty of rain, so perforated flooring is ideal. Many court tiles feature perforations that allow water to drain through the tiles, which helps prevent the collection of standing water on top of the tiles.
What Are My Flooring Options?
There are three flooring materials that are commonly used in outdoor basketball courts:
Concrete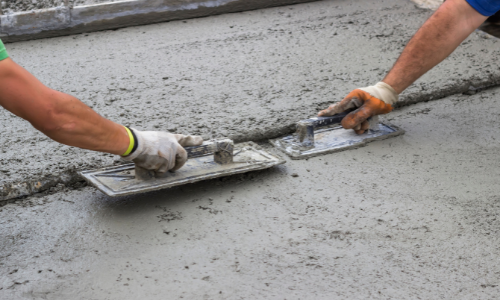 Concrete is incredibly strong and, with proper maintenance and repair, can last from 30 to 40 years. Concrete is also incredibly durable and requires minimal maintenance compared to other flooring materials. Read our article on the pros and cons of concrete driveways to learn more.
Asphalt
Asphalt is also a very strong, long-lasting material. Asphalt is very porous, which makes it a good material for drainage. Proper water drainage can reduce the risk of moisture related issues. Asphalt generally lasts 15 to 20 years with proper care and maintenance. Read our article which outlines why you should choose concrete over asphalt.
Sports Tiles
Sports tiles are alternative to many other floor surfaces. These tiles either interlock or are suspended together to create the court. Sports tiles are weather-proof and are not permanent, so they can be removed in the off-season
Why Choose Concrete Flooring?
Concrete flooring provides the most stable, long-lasting, and low-maintenance flooring for your outdoor basketball court. Concrete will also last decades longer than asphalt. With proper care and maintenance, the expected lifespan for concrete is 30-40 years, while asphalt is only 15-20 years. Also, concrete stays in place permanently and does not need to be reassembled every season like courts with sport tile flooring would.
Is It Durable?
As previously mentioned, durability is a key factor when considering flooring options for an outdoor basketball court. Asphalt oxidizes over time and becomes brittle, which makes it highly susceptible to cracking and thus, is less durable than concrete.
What is the Maintenance Required?
Concrete requires minimal maintenance, however wear and tear over time is unavoidable. Concrete will take a longer time to deteriorate in comparison to other flooring materials, but some upkeep and repairs are still required. Apex Concrete can apply a fresh layer of concrete wherever it may be needed to make your concrete flooring look brand new again. Placing a new layer of concrete is only one option, if the wear and tear is extensive enough, Apex Concrete can also replace concrete anywhere you might need it.
Hire Apex Concrete & Hauling to Build Your Concrete Basketball Court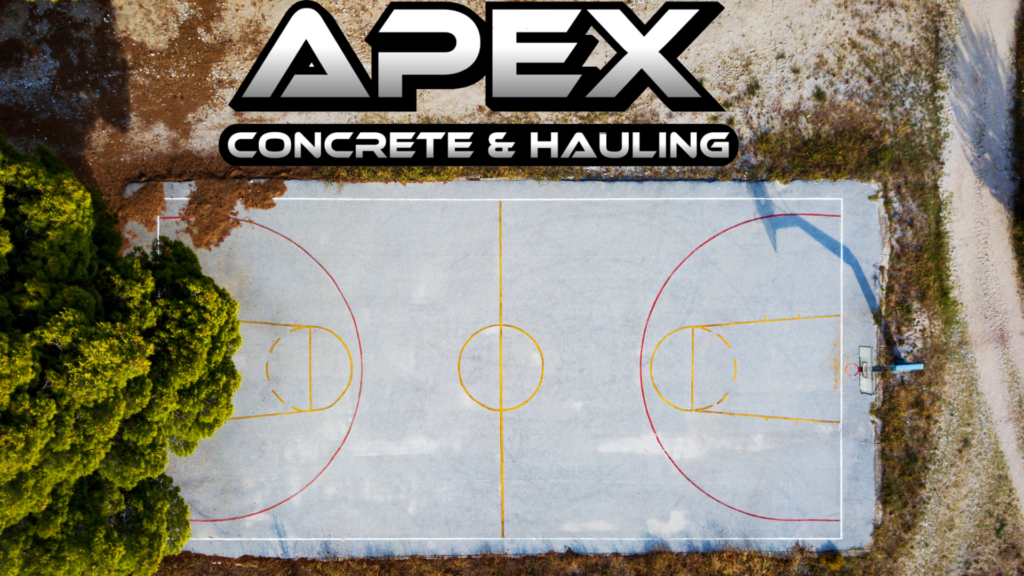 The flooring material of your outdoor basketball court is extremely important. With bad court flooring, you will not only be faced with repairs often, but it will also be more hazardous for users. Choosing the right materials will allow you to avoid injuries, protect your investment, and get yourself a long-lasting court. Concrete is a great flooring option for outdoor basketball courts as it is extremely durable and requires minimal maintenance and repair. Apex Concrete is able to bring you the highest quality Concrete Contractor services at the most affordable rates. Hire Apex Concrete & Hauling to build your outdoor basketball court today!